Do you reach for the snooze button, have a memory of a goldfish and attention span of a puppy?
Do you feel 10 years older than you are? Dread your alarm clock? Irritable and snappy?
Do you count calories and avoid sugar but still can't lose the weight?
Do you want to understand fat burning & aerobic health and performance? At any level, for any job, or any sport, we can improve your abilities!
SPEAKING FROM EXPERIENCE, WE KNOW YOU CAN:
Say goodbye to sugar cravings, belly fat and anxiety
Welcome consistent high levels of energy without the 3pm slump
Rock your own lean mean fat burning machine body with confidence.
Sleep like a baby without the 2am wide-eyed moments
Experience focus and clarity that sci-fi characters dream of.
Create age-defying skin that will have you glowing.
Be present in the moment – calm and collected.
Have clear purpose and motivation through optimal state of mind.
Be asked by loved ones "what the heck are you doing, you look amazing!"
Understand how your body works, and get it working better than anyone you know!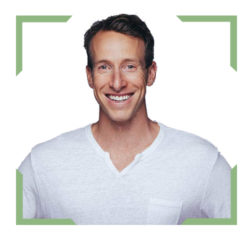 Hi, I'm Pete
I'm a world champion triathlete, performance and health coach, and fatigue fighter. For the past 15 years, I've been a professional athlete performing on the world stage at the pointy end of arguably the toughest race in the world. The Hawaii Ironman World Championship.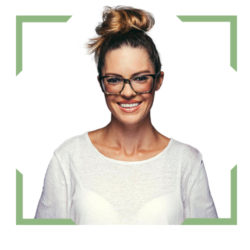 Hi, I'm Jaimielle
I'm Jaimielle Jacobs, I'm a professionally trained health coach, accredited personal trainer and recipe powerhouse. I am super passionate about building belief, courage and self-love into your daily health routine, for kickass results.
We created LYF after Pete's health went downhill post winning the world championship in 2012. Countless hours in doctors rooms, tests and thousands of dollars later still no closer to any tools for Pete's crippling fatigue and ill health. Not one practitioner asked Pete holistic health questions i.e food consumed? Sleep patterns? Relaxation techniques? Exercise-induced stress?
Pete and I got our thinking caps on and started studying like a fish in water. Then the godfather of optimal health and performance Dr Phil Maffetone stepped in with support, steering us to permanent lifestyle changes and a new view on health & performance. After much research and personal experience we thought "how can we make all things health, wellness, and optimum performance accessible to everyone?
Live Your Own Fit and the 90 Day LYF Performance Reset was born so you can experience kick-ass health and performance and live to your potential in all areas of life. It's easier than you think.
All of this is possible and so many more individual benefits you will find along the way. Pete and I were once where you are…we are now experiencing all of the above and much more.
Over the past decade, we have learned a 5 pillar approach to creating and sustaining optimal health, performance and energy.
You need a strategy, a strategy that works.
You don't have to settle for mediocre health. We'll teach you how your body works, and even better, how you can have a positive effect on those around you.
Introducing
The LYF Reset Program | 12 Week 1:1 Program with Pete & Jaimielle Jacobs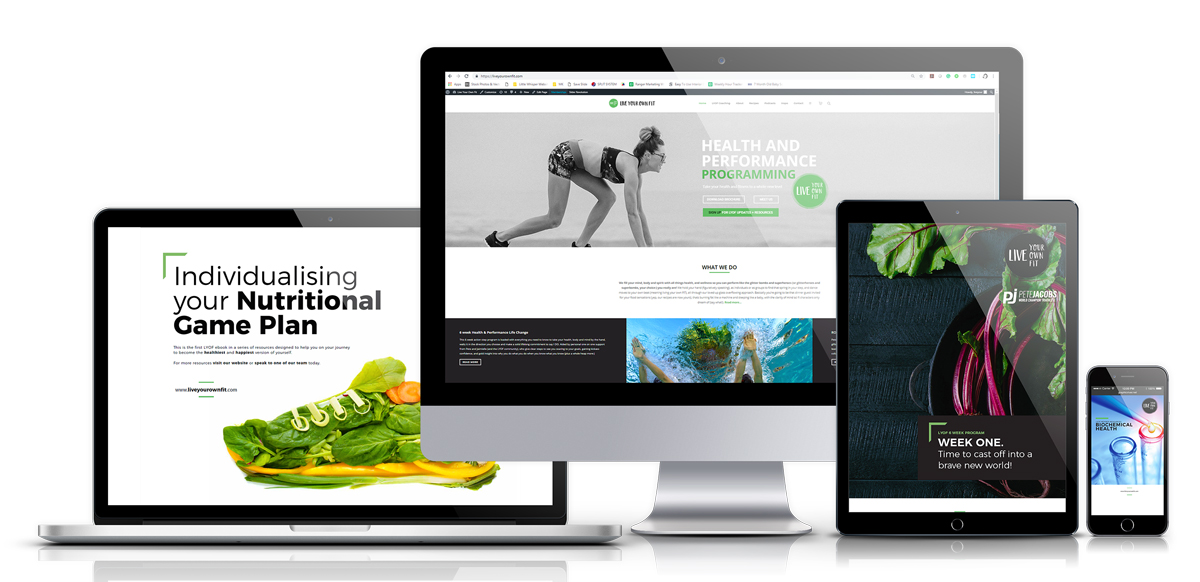 A 12-week online health and performance program for "life potential" seekers who want premium long-lasting health and performance. You may be struggling with fatigue, anxiety, an increasing waist and experiencing broken sleep, brain fog, lack of confidence, confusion about what to eat whilst training, racing and throughout the normal day. 
The LYF program helps you turn your desires of feeling lean, strong, capable and confident, focused, well slept, and energetic into a reality.
We will walk you through the LYF 5 pillar method to reaching your full health and performance potential. Whether you're an elite athlete, weekend warrior, high flying executive, workforce newbie or full-time boss of all things home and family, our program is perfect for you. Yep, it works for everyone at all different ages, stages, and places because we work one on one with you, and lead you were you need to go.
Our program is there as support, to ask you certain questions along the way, but it is the personal support that creates the individual change, information, answers, and journey that is best for YOU.
Meet some happy clients
Just a few words on my two-week elimination test. I gave up gluten, sugars, carbohydrates and dairy. The dairy was to
see how my sinuses reacted
as I always had a runny nose in the mornings and mucus down my throat in afternoons. Day 2 my nose was clear and my throat was OK in the afternoon!
Amazing change
 after seeing ENT specialists who suggested I drink more water to clear the mucus.
My gut was OK before the test so it was just to see how my body reacted when these things were taken away. My weight was pretty good before the test at 72kilos, and my waist was 94centimetres. I am 178centimetres tall so my waist was a bit above the recommended.
After two weeks of no dairy, high carbs, sugars and gluten I was amazed that I had lost 3kilos and 10cm from my waist. I had not felt hungry, I still had wine each night and had more energy. After 2 months I have now reduced my weight to 67kilos, and my waist is down to 32inches (81centimetres). I have reintroduced fruit, a small amount of cheese once a week, and some carbs (no white potatoes but sweet potato and pumpkin). This weight has now been steady for about a month and I can not be happier with the improvement in my life.
Thank you Pete and Jaim"
Live your own Fit with Jaimielle and Pete has
permanently changed how I think and feel
about food, exercise and life.
Having been around sport and fitness as a participant since a child and in my early career as a Physical Education teacher, I thought I had a good grounding in nutrition and sports performance. I thought how I felt physically and emotionally was fine and though I regularly woke up at 2 or 3am and went into work because I couldn't get back to sleep I just thought it was a phase I was going through because work was intense.
Live your own fit opened my eyes to a new world of vitality, positivity and sleep. What I thought to be true about fuelling my body for health and peak functioning was turned on its head through the research, coaching and encouragement of Jaimielle and Pete.
The best part is that I love the food and fitness and it's easy. I am a full time working mum of two and it has seamlessly worked in with our life, I feel physically and emotionally amazing and I now sleep through the night.
Eating for peak functioning is not a fad diet or a temporary fix, rather a way of life and it is a pleasure to eat this way every day.  Live your own fit has changed how I look, how I feel and how I approach life. I love the outdoors but I am not an elite athlete, I train for fitness and health when I can around my work and parenting commitments. Jaimielle and Pete made me feel like I was the only client in the world and that my goals were as important as any World Champion. I can't recommend Live Your Own Fit more highly.
PACKAGE OPTIONS
How It Works
We've designed the program so it suits different ages, stages and places of ones' health and performance journey.
You receive 9 x 1:1 sessions (over video chat) + all archived and new resources, unlimited contact over email, Messenger/WhatsApp, as well as live weekly Coaching group sessions (via Zoom) where you can participate or simply listen to others questions and nuanced experiences (and recordings are sent out so you can catch up in your own time).
A personalised training plan from Pete (or Jaimie if you prefer) via Training Peaks – whether you want to walk 5km, or 5okm, or get fit & strong for golf or an Ironman, we can plan your weekly sessions.
You also have membership to our 2  x weekly strength classes, 1 x weekly recovery (stretch, yoga etc), and 1 x Soul Session (cooking/meditation etc.) All sessions are live on zoom then sent as recordings.
Both Jaimielle and Pete are taking their individual clients now. Spots are filling up.
What makes this program stand out from the crowd is that its fully action orientated with 1:1 Coaching. You will be improving your health, fitness, nutrition and overall lifestyle habits for increased life and athletic performance. You will dive deep to establish your intentions, learn how to create a mindset that supports you, find what foods suit you best + develop you individual training and racing fuel plan – all whilst going through the material and being coach by us each week.
The result?
The foundation for the body, mind and fitness you've always dreamt of -in just twelve weeks! And most importantly, an understanding of your body that you had never imagined possible, giving you the ability to continually improve your health from now on, and the skills to be able to decipher other future issues you may encounter, and without the need for unnecessary pharmaceuticals that would only be masking the symptom, and not addressing the problem.
We help you understand the "big picture" of how your body connects together, and how one thing effects another, and so on to infinity. This allows you to see far beyond the symptoms, and see the causes themselves that you'll be able to fix with lifestyle, diet, and mindset knowledge we have given you.
Start with a rock-solid foundation
Your LYF 5 Pillar Roadmap. These are the 5 areas you need to focus on to see optimal health and performance in life – so you can rock your own healthy hero status!
Know your numbers so you can track changes and high five yourself as you see improvements.
Set yourself up for success and plan accordingly, so you can stop treading water and actually start reaching your potential.
Establish your WHAT, WHY and HOW
On-boarding LYF Questionnaire
Get your loved ones on board Kit
Individualising your plate and finding food freedom
14-day elimination protocol to discover your food sensitivities and an insight into your health.
Learn to stop counting calories with a new-found food freedom.
Learn low GI recipes, meal planning, and pro tips for the busy bee
Why Nutrition Matters
Electrolytes for Performance
Dialing in your Individual Training, Racing and Everyday Nutrition and Electrolyte Habits
A Snapshot Of Cellular Health
Tapping into what MOVES you and the trick to making your body, mind and spirit perform as one
What Is Your MAF Heart Rate
Create Your Fitness Plan
Learn how to build a strong foundation for movement and your metabolism that will see you setting PBs or simply keeping up with the little ones
A step by step guide to re calibrating your body for optimum efficiency 24/7.
More Recipes – yes, you're going to be that dinner guest invited for your food sensations
Deeper info on how your body works could be the insight you need to stick to the healthy options – be proactive again degenerative disease i.e dementia, cancer, arthritis etc, or slow the impact of it.
The right way to Rest, Recover and Restore your body
Learn how to make your mind work FOR you, not AGAINST you
Become a Fat Burning machine
Get information that is seldom shared so you're one more step to being your own health and performance expert
Start Sleeping like a Baby
Circadian Rythm and Sleep Transformation
Getting in the zone and finding your flow
Keeping the momentum going
Learn how to tackle your belief systems and make them work for you.
Instil mindset practices, purpose and all things SELF
Build your self-awareness skills, and learn a champion mindset.
Tap into recovery and stress release for optimal results
Gratitude – The Art of Giving Thanks
Sticking to your goals in real life and increasing self awareness
Support for your primary road-blocks and tools to break through.
Reset goals and intentions to boost motivation
Increasing connection between your intentions and your actions
Sustainable and enjoyable healthy habits
Nutrition Info and Inspo
Mobility Techniques
Graduation and taking knowledge and skills into your control
Why you'll never take your eye off the prize
What you must continue to do for optimal health and performance
Bonus recipes to last a lifetime
Co-Create your personal roadmap ahead
Complete Questionaire to identify changes
Complete MAF Test to track improvements
START LIVING YOUR OWN FIT!
What you'll receive when joining us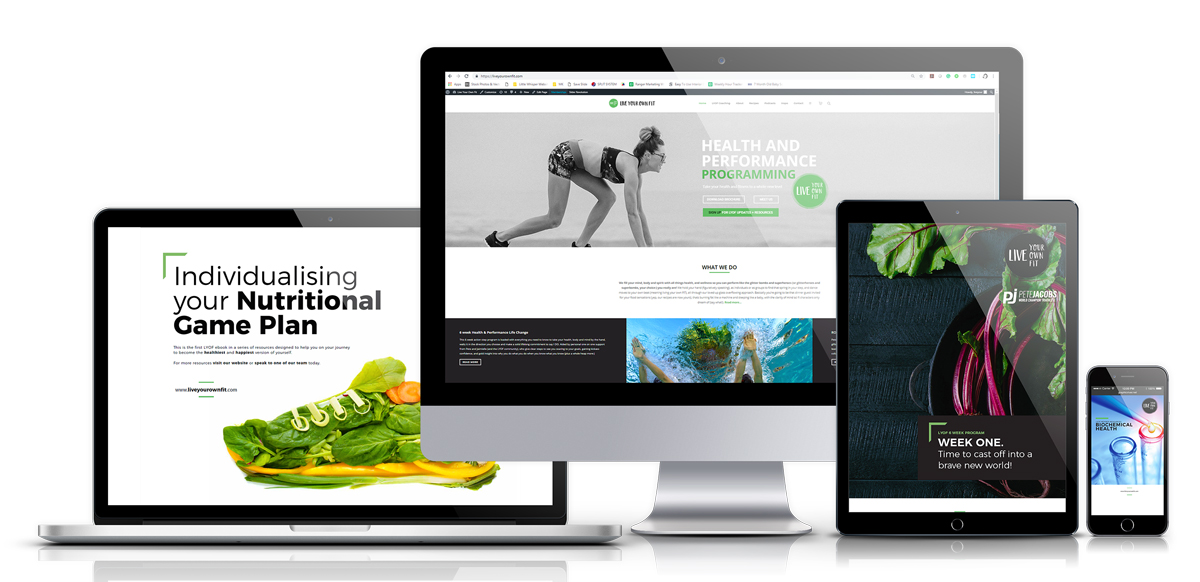 Emails with weekly content, recipes, tips, and resources.
9 x 1:1 Coaching Sessions with Pete or Jaimielle
Your own Portal & App for all your journal needs + the LYF Fit Foodie Cookbook (digital version).
Your own Training Peaks Account + App for Fitness programming (optional).
Group Webinars once a month with Pete, Jaimie and your LYOF buddies to keep you focused, on track, and having fun!
First access to LY.F events and partnership discounts
A package just right for you!
Excited to get started?
We designed this program to suit all ages, in all stages of life, health and performance based on our expertise, experience and results.
It's easy, say YES to yourself and click the buy now button anywhere on the page.
You'll receive an email right after you check out with all the programs details and your roadmap ahead
You'll start your LYOF venture to the best health and performance yet, maybe we'll even see you at one of our retreats around the world to celebrate
The 12 week LYF Health and Performance Program is perfect if you're
EVERYONE – For we are ALL athletes in LIFE.
An elite athlete who wants to create their personal edge by optimizing their results in training and on the race course
A weekend warrior who wants extra energy in training, at home, and at work.
A busy bee high up on the corporate ladder, stressed and tired, wanting an edge in board meetings and kickass energy without the highs and lows
The master of all things "home" (full-time mums and dads or homemakers) after a supportive community and support in co-creating a goal (hey, the program could be your goal
The person that has a million things on their list that doesn't tick any of them off. Is foggy brained, overweight and lethargic
A grandparent after extra energy, feeling of joy, and clarity to keep up with the family and make their retirement years their best yet
Frequently asked questions