Podcast: Play in new window | Download (Duration: 30:43 — 42.4MB)
Subscribe: Android | Google Podcasts | RSS | More
This episode is just me, Pete, talking about my mindset that helped me win the Ironman Triathlon World Championships in 2012.
Full results from that race here
We start where it ended, with my finish line interview with the voice of Ironman, and good friend, Mike Reilly.
I had a unique mindset, using the word LOVE, as a bit of a mantra to keep me free of doubts and fear, and therefore making me stronger and calmer.
I go into detail of how this had a positive effect on my Nervous System, the positive recruitment of muscles, hormones, and overall performance for me under the pressures of a world championship race.
I had been mentored by Allan Pitman for the years leading up to this event, and he'd introduced me and sat in on my session with kinesiologist Ian Maitland. We worked through my fears and doubts and was given the word LOVE as a positive mindset change. It was to help deal with trolls, pressure, competitors, pain, heat etc. 
I visualised all the time in training. I was training my mind as much as my body in every session.
I created a playlist around the theme of LOVE. Here it is…. I didn't listen to all these songs equally, and got sick of a few of them and had favourites I would replay a lot!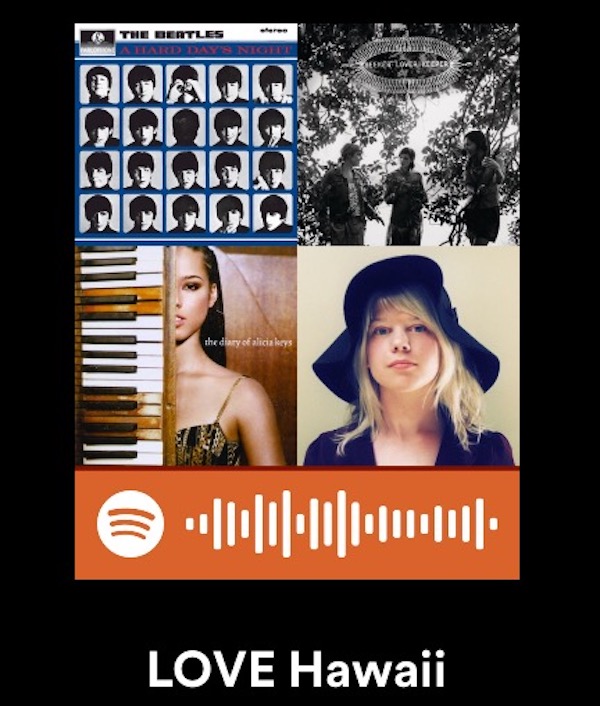 Spotify has a cool search option using the barcode on the playlist picture. Open Spotify app on your phone, go to "search", and see there's a picture of a camera at the top, hit that, and then take a photo of the barcode here to instantly be connected 🙂
I made changes in my approach from runner up in 2011 to winning in 2012.
A piece of audio from a friend cheering for me on course captures the sentiment I had on race day  perfectly. I'd let my supporters know to remind me I was out there because I LOVED it.
Recap of the race, how I was able to remain calm and make the correct decisions thanks to having visualised the race in training so often, and my relatively calm nervous system aiding in my mental clarity.
Phil Maffetone pointing out primary vs secondary symptoms.
Physical reactions, abilities and emotions come from the nervous system, controlled partly by the Central Governor (basically the brain, mostly..sort of) and how it reacts to what you are letting it know and perceive.
Tim Noakes is an authority on the Central Governor Theory, a short description of this theory from wikipedia. 
The central governor is a proposed process in the brain that regulates exercise in regard to a neurally calculated safe exertion by the body. In particular, physical activity is controlled so that its intensity cannot threaten the body's homeostasis by causing anoxic damage to the heart muscle. The central governor limits exercise by reducing the neural recruitment of muscle fibers. This reduced recruitment causes the sensation of fatigue. The existence of a central governor was suggested to explain fatigue after prolonged strenuous exercise in long-distance running and other endurance sports, but its ideas could also apply to other causes of exertion-induced fatigue.
and more information below from from https://runnersconnect.net/central-governor-theory/
 The central governor theory posits that racing is a balance between:
(1) physical preparation and biological systems; 
(2) emotional components, such as motivation and pain tolerance;
(3) and self-preservation. The exact combination of these factors is what leads to how hard you're able to push during a race.
A rough description of how the energy systems work, and how they are controlled internally and externally.
Sympathetic Nervous System response to running from the lion. This example from this amazing TED talk below.
An excellent TED talk that explains a lot about how to be healthy, and perform better. It is a must watch to gain a greater idea of what HEALTH means and how the body works. https://www.youtube.com/watch?v=bczm0RsIZUM
What are the limitations on performance?
How I won Hawaii Ironman World Championships.
How I trained mentally for Hawaii. How mindset changes your physical ability. 
Perception over rules all. 
Don't forget if you subscribe, rate, and leave me a review as that will help me be motivated to keep producing the podcast and answering your future questions! Thanks so much for your support.
Let's get this podcast famous and help more people perform at their peak, be healthier, and have the best lives possible! 😉